30 May 2008 – 1 June 2008
During my stays in Shanghai some years back, I travelled to Putuoshan and Zhu JiaJian with my husband. We took an evening ferry from Ninndbo. We travelled overnight. We slept on a double-decked bed, 8 person sharing in the ferry. We had simple dinner and breakfast. We arrived the next morning and received by a local female tour guide.
She guided only both of us. We took local mini bus to view a 33m tall statue of the Guan Yin at Zizhulin. We were told this Guan Yi (bodhisattva Avalokitesvara) which is located in this Mount Putuo is one of the four sacred mountains in Chines Buddhism. The other three are Mount Wutai, Mount Jiuhua and Mount Emei which we are looking forward to visit in due course. We felt serenity and calmness in this area. Besides, Guan Yin, we also visited the Puji si (founded 10th cent.), the Fayu si (founded 1580 CE), and the Huiji si (founded 1793 CE). In a nutshell, this place is a worshipping place for Buddhist disciples.
Later, we travelled in a local minibus to a local motel close to a 'fishing village' at Zhujiajian. We had local food for lunch and seafood for dinner. There were lots of stalls selling extremely fresh cockles of various sizes, fishes and seaweeds. The taste was acceptable to us, but not sumptuous as compared to Malaysian way of cooking.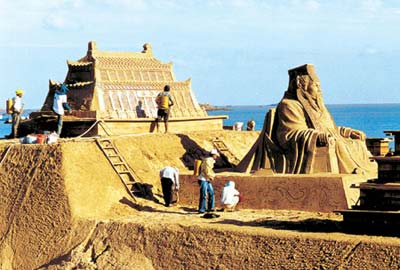 The next day, we went to view the famous international Olympic sand-sculpture festival. The sculptures were amazing with cartoons, warriors, animals etc. The sand was as fine as powder. I was very comfortable to move around bare feet. Besides, another memorable place was black pebbles beach. When the waves pushed up to the shores, and subsided back to the sea, the friction between sea water and black pebbles created 'shah. shah, shah' rhythm, a very harmonious background tempo. I just liked it.
After lunch, we were directed to bus station. We took an express bus back to Shenjiamen Bus terminal in Shanghai. It was indeed an eye-opening and memorable trip for us.